Venue
Dharma Drum Institute of Liberal Arts, GC001 Lecture Hall.(Google MAP)
Address: No. 700, Fagu Rd., Jinshan Dist., New Taipei City 20842, Taiwan, R.O.C.
How to get to the Venue
http://www.dila.edu.tw/about/location/campus
Drive
Take the Danjin Highway to Jinshan via Sanzhi.
Take the Yangjin Highway to Jinshan via Yangmingshan.
Take Freeway 1 and exit at the Badu interchange, or Freeway 3 and exit at the Wanli interchange, and proceed along the Jijin Highway to Jinshan via Wanli.
Note: Freeway 3 is an express motorway. We recommend that you change at the Xizhi interchange and take the number 1 National Highway, then the number 3 National Highway.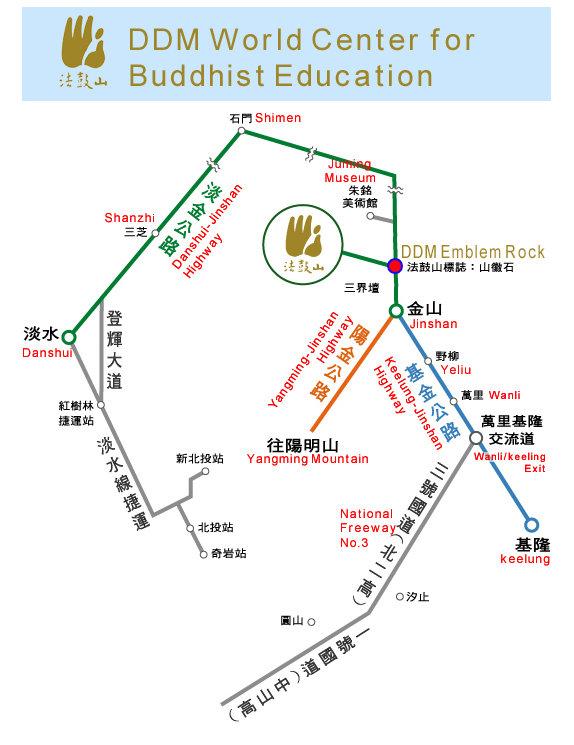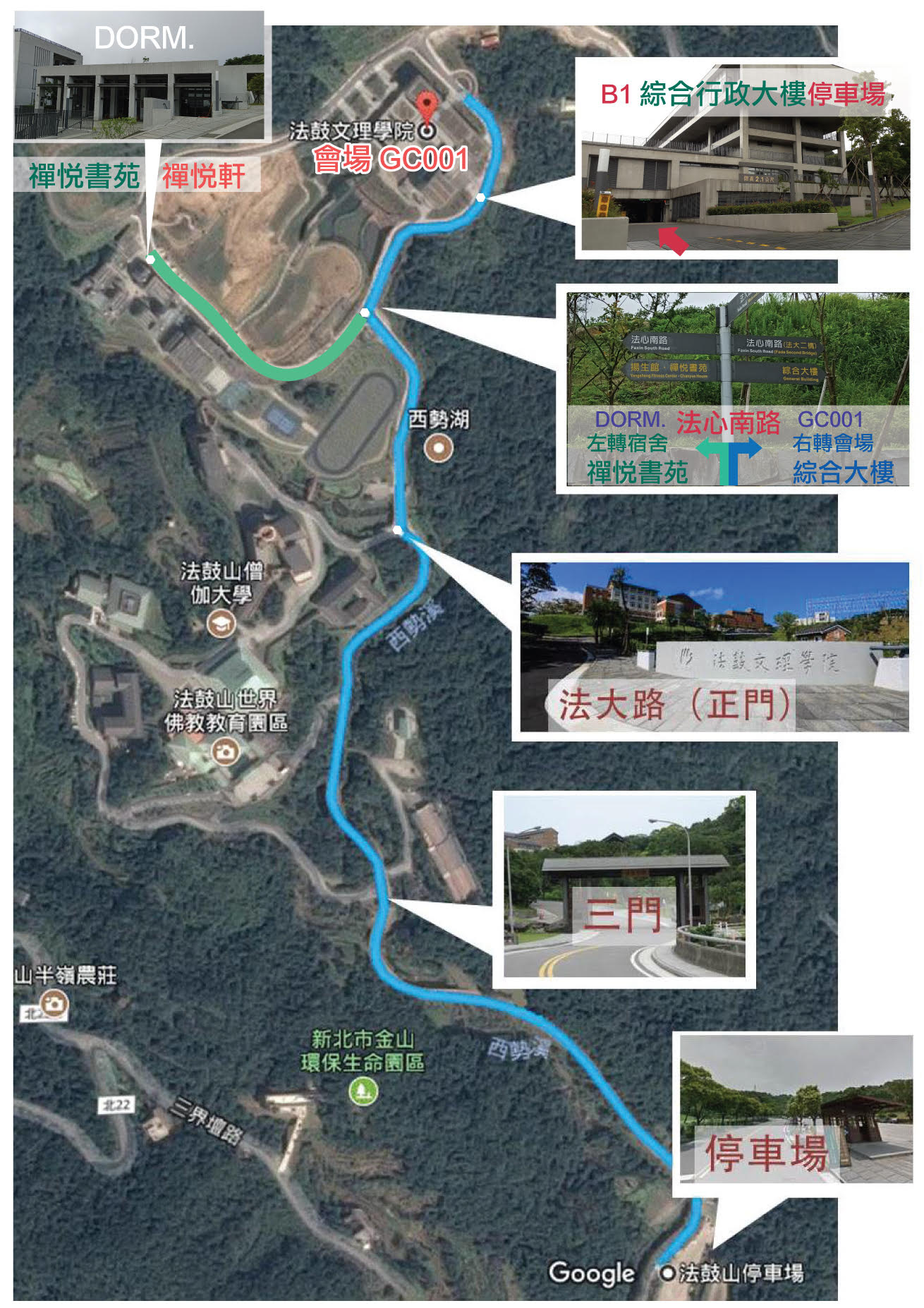 Taking Kuo-Kuang Bus
Take the 1815a Kuo-Kuang Bus at the Kuo-Kuang Bus Station, next to the north-east exit 3 of the Taipei Main Station.
Note: Not all 1815 buses go direct to Dharma Drum, those that do will be clearly marked in both Chinese and English.
Tickets may be purchased when boarding the bus ($134, $67 half-price), but change will not be given. Alternatively, the EasyCard travel card may also be used. Travel time is approximately 1 hour 40 minutes.
Conference Shuttle Bus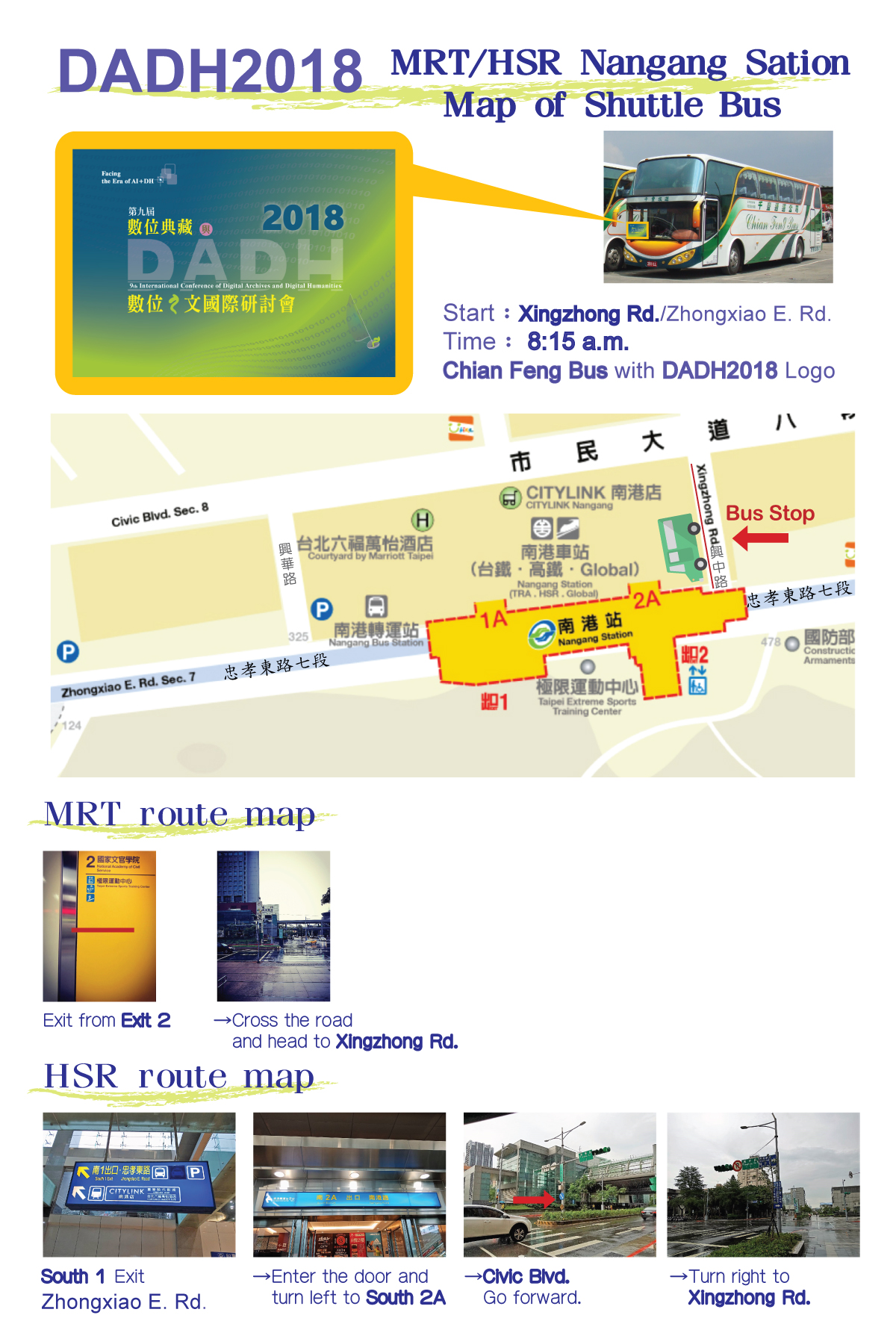 Pick-Up Point: Xingzhong Rd and Zhongxiao East Rd crossroads.

The bus will be marked with the sign "DADH 2018"
How to get there from the MRT:
Take Exit 2, cross the road and go straight as far as Xingzhong Rd.
How to get there from the High-Speed Railway Station:
Follow the signs for Exit 1 on Zhongxiao East Rd, then take the path on the left to
Exit 2A. Continue straight on Civic Boulevard and turn right onto Xingzhong
Road.
會議接駁車時刻表:(行車時間約為1小時15分鐘)
| 日期 | 南港捷運站 → 會場 | 會場 → 南港捷運站 |
| --- | --- | --- |
| 12.18 (W2) | 08:15 | 17:00 |
| 12.19 (W3) | 08:15 | 20:10* |
| 12.20 (W4) | 07:30 | 19:50** |
| 12.21 (W5) | 07:30 | 18:10 |
* 將於揚生館(茶禪體驗場地)發車
** 將於陽明山天籟溫泉酒店(晚宴場地)發車
Taipei Airport and Train Links