The conference offers the following accommodation:
On-Campus Dormitory

(Accommodation Registration Point, Chan Yue Hall)
Located in the Chanyue House residence, only a 7 minute walk from the venue.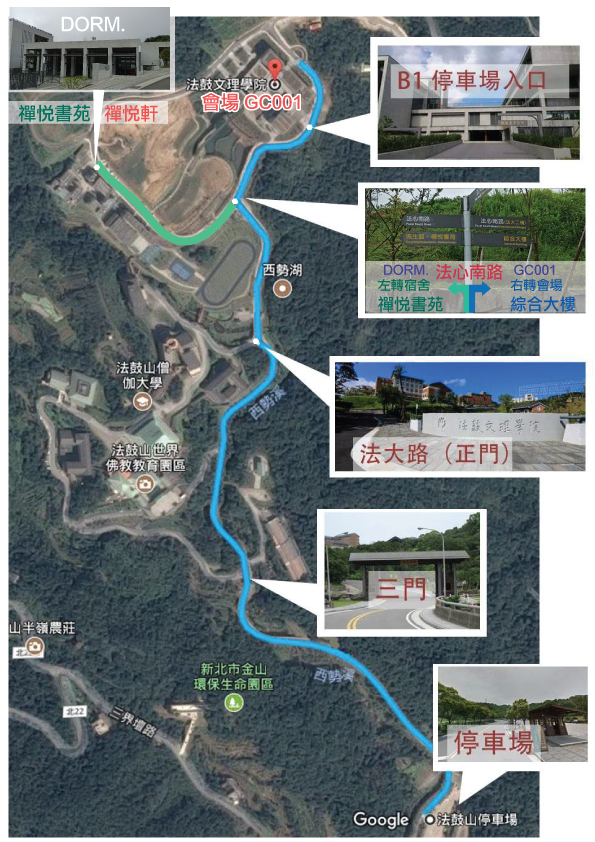 The accommodation consists of a double room, for 2 people sharing, NT$300 per person per day. For a single person, NT$600 per day.
When sharing a room, you may specify your roommate or arrange it at the conference. Thee fee will be charged with the registration fee.
A free vegetarian breakfast will be provided courtesy of Dharma Drum Mountain for anyone staying at the dormitory.
The dormitory in this college is an environment where men and women live separately and it is not possible for us to provide a co-ed room.
Please note that the dormitory is not a commercial hotel and only provides basic services. Please bring your own towels and toiletries. For detailed information, please refer to the Accommodation Rules webpages.
Off-Campus Accommodation
The Jinshan area is a well-known hot spring resort area in northern Taiwan. After a tiring day of meetings, you can enjoy a warm and comfortable hot spring bath at the hotel. We have selected several hotels nearby:
Although these hot spring hotels are not far from the conference venue, it would still take a lot of time to walk to the venue from the town. Public transportation in Jinshan is not well developed. We would recommended that you ask the hotel to arrange taxis. The fee is NT$200 yuan for a single trip, which could be shared by up to 4 people.
1. Tangyu Shuangquan Hot Spring Resort
Address: 208 Huanjin Road, Jinshan District, New Taipei City
Webpage:[ agoda ]
Phone:(02) 2408-1789

2. Mushe Hot Spring Resort
Address: No. 166-1, Wanlijiatou, Dapengli, Wanli District, New Taipei City
Webpage:http://www.loftseaside.com.tw/
Phone:(02) 2408-2559

3. Jinshan Bay Hot Spring Resort
Address: No. 326, Shungang Road, Jinshan District, New Taipei City
Webpage:http://www.sakurabay-hotel.com.tw/ [ agoda ]
Phone:(02) 2498-0007

4. Jin Yong Quan Hot Spring Resort
Address: 213-3, Wanlijiatou, Wanli District, New Taipei City
Webpage:http://www.jyq.com.tw [ agoda ]
Phone:02-2498-3588